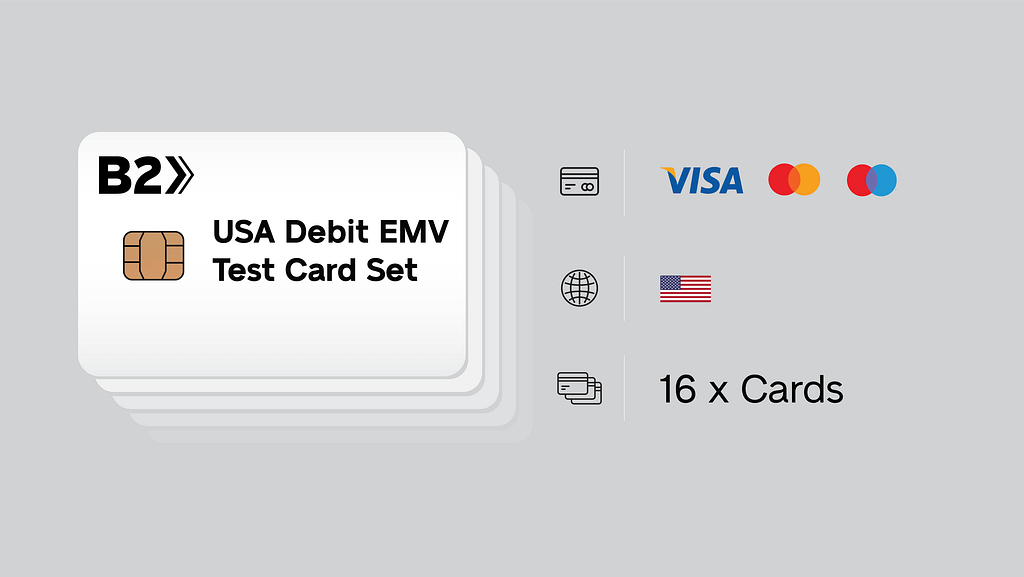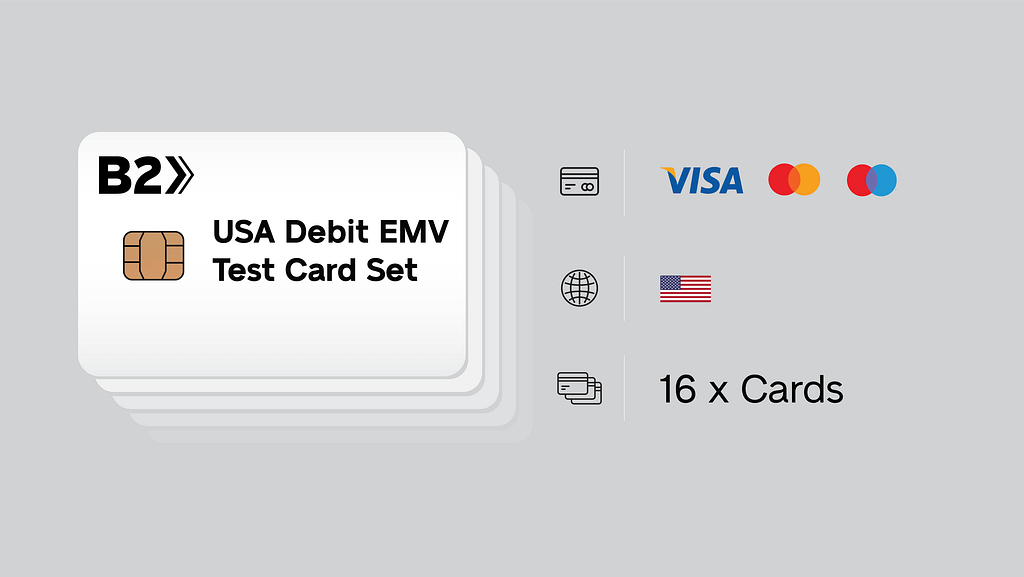 USA Debit EMV Test Card Set (16xCards)
Designed specifically for the U.S. market, this comprehensive USA Debit EMV test card set contains cards personalized to match the many U.S. Common Debit scenarios that must be supported by EMV devices deployed in the USA. This USA Debit EMV test card set contains both U.S. Common Debit cards (Discover, DNA, Mastercard and Visa) and Canadian Interac debit cards. The U.S. Debit cards contain both Global AIDs and U.S. Common Debit AIDs, referencing both a Single Funding Account and Multiple Funding Accounts. Four cards are EMV Dual Interface (contact / contactless) cards and all cards contain a contact EMV chip and a magstripe.
Note: This card set includes a comprehensive U.S. Debit Test Plan with over 150 test cases to help you understand and test the many U.S. Debit scenarios that should be supported by EMV solutions deployed in the USA.
Note: Many processors outside of Canada do not yet support the Interac Flash BIN '001203' in Test Card 15. If not supported, the card should be accepted by the POS but will not obtain a host approval. Please contact your acquirer account representative to determine if the Interac Flash BIN range is supported on their development host.
Card Expiry Dates (by Brand):
Amex 12/2024; Discover 05/2026; DNA 12/2025; Interac 12/2028; Mastercard/Maestro 12/2025; Visa 12/2024
Note:  Card images below may not reflect current card definitions.  Please refer to product documentation for details.
Card details:
Test Card 01 – Visa, 476173******0135, Dual Interface, Global Debit, U.S. Debit, Single Funding Acct
Test Card 02 – Visa, 476173******0135, U.S. Debit
Test Card 03 – Visa, 476173******0176, Credit, Global Debit, U.S. Debit, Dual Funding Acct
Test Card 04 – Visa, 476173******0084, Interlink
Test Card 05 – Mastercard, 541333******9130, Dual Interface, Global Debit, U.S. Maestro, Single Funding Acct
Test Card 06 – Maestro, 679999******2010, Int'l Maestro, Dual Funding Accts
Test Card 07 – Mastercard, 541333******0060, Credit, Int'l Maestro
Test Card 08 – Maestro, 541333******9007, U.S. Maestro, Dual Funding Accts
Test Card 09 – Mastercard, 541333******0060, Credit, Int'l Maestro, U.S Maestro
Test Card 10 – Mastercard, 541333******9130, U.S. Maestro, Online PIN
Test Card 11 – Mastercard, 541333******0060, Credit+Debit, 2 Dual Funding Acct Pairs, 4 AIDS
Test Card 12 – Discover, 601197*****0138, Dual Interface, U.S. Debit, Global Debit, Single Funding Acct
Test Card 13 – Discover, 601197*****0120, U.S. Debit
Test Card 14 – DNA, 400000*****0028, Debit Network Alliance
Test Card 15 – Interac, 001203******0003, Dual Interface, Flash Canadian Debit
Test Card 16 – Mastercard, 541333******0060, Dual Interface, Credit, Debit, U.S. Maestro