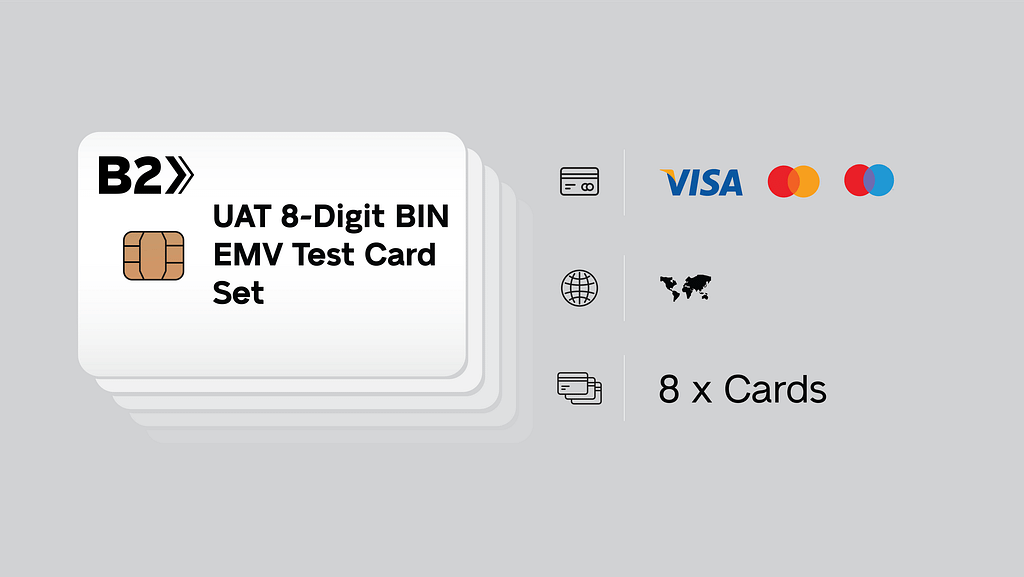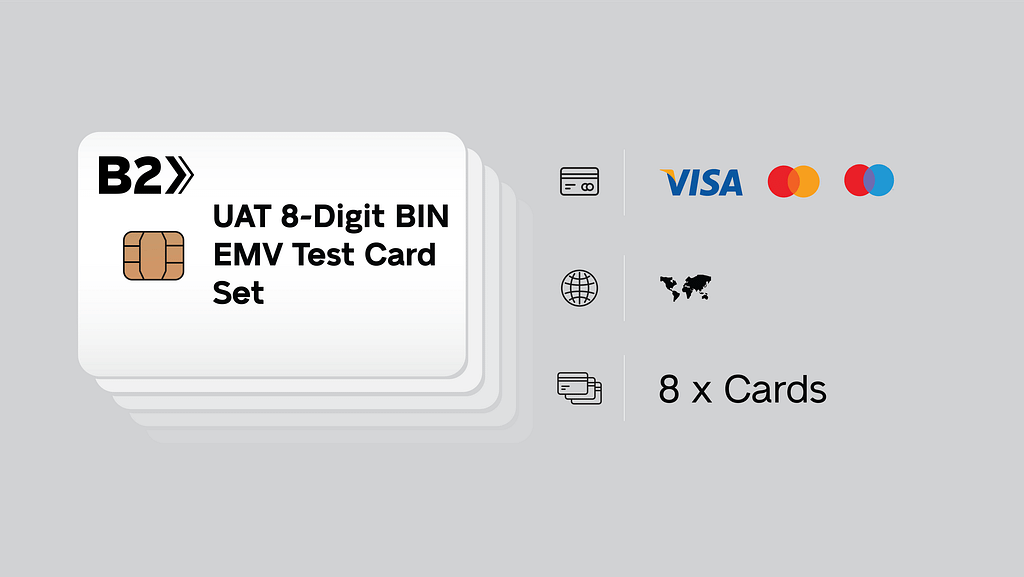 UAT 8-Digit BIN EMV Test Card Set (8xCards)
This B2 UAT 8-Digit BIN EMV Test Card Set has been designed to help anyone who is preparing for, testing or demonstrating solutions compatible with the industry's 8-digit BINs migration, set to roll out globally in April 2022. Note: The PANs used in this set have been provided by Visa and Mastercard and as a result they should be recognized by all acquirers and processors. This card set consists of Mastercard, Maestro, Cirrus and Visa cards with a variety of issuer countries, currencies and languages. The Business Identification Number ("BIN") is used by issuers, acquirers and many merchants to distinguish between card products and other processing attributes. As the industry migrates from 6-digit to 8-digit BINs, ensuring that merchants can continue to correctly identify card products and processing attributes is vital. The UAT 8-Digit BIN EMV Test Card Set has been developed to provide a cost-effective solution to test that both 6-digit and 8-digit BINs are processed correctly. To make best use of the cards in this set, it is advisable to consult with your designated provider for a review of their plans to support 8-digit BINs.
Card Expiry Dates (by Brand):
Mastercard/Maestro 12/2025; Visa 12/2024
Note:  Card images below may not reflect current card definitions.  Please refer to product documentation for details.
Card details:
Test Card 01 – Visa, 41092301****0012, Dual Interface, Credit, USA/USD, English
Test Card 02 – Mastercard, 22235904****8111, Dual Interface, Credit, CHE/CHF, Eng/Ger/Fre/Ita
Test Card 03 – Mastercard, 22235906****8119, Dual Interface, Credit, PER/PEN, Eng/Spa
Test Card 04 – Maestro, 50339678****8125, Dual Interface, Debit Prepaid, NLD/EUR, Eng/Dut
Test Card 05 – Maestro, 51339671****8127, Dual Interface, Debit, CAN/CAD, Eng/Fre
Test Card 06 – Mastercard, 53469302****8116, Dual Interface, Debit, IND/INR, English
Test Card 07 – Mastercard, 53469330****8112, Dual Interface, Cirrus, ARE/AED, English
Test Card 08 – Mastercard, 53469371****8112, Dual Interface, Credit, USA/USD, English
SKU: CRD-UAT-BIN-8Digit-8