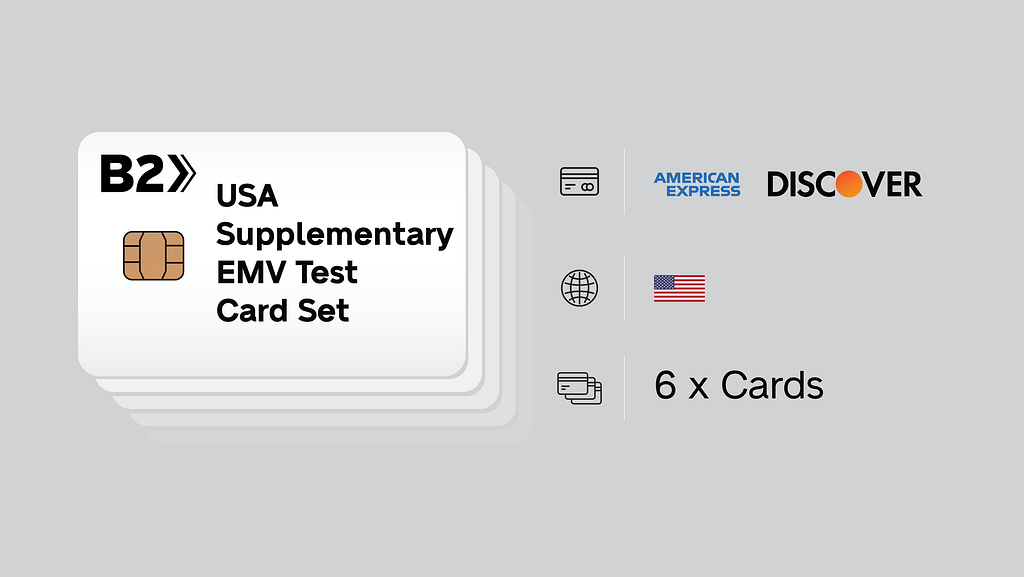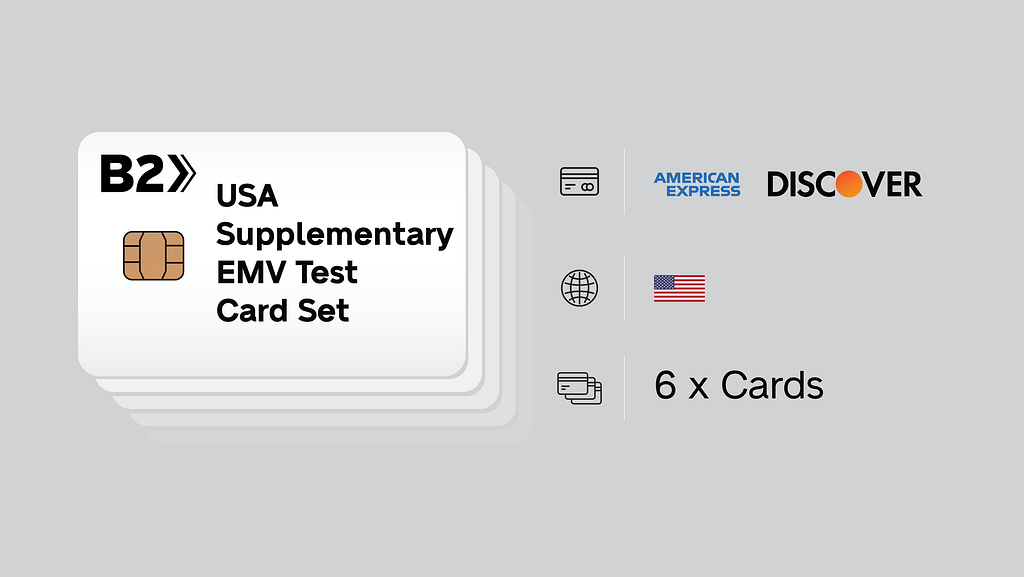 B2 USA Supplementary EMV Test Card Set (6xCards) – To Be Discontinued. Limited Stock Available. Please Inquire for Purchase.
The B2 USA Supplementary EMV test card set has limited stock available will be discontinued when the remaining stock has been depleted. Please contact info@b2ps.com to inquire about availability.
This B2 USA Supplementary EMV test card set of six test cards supplements the B2 USA EMV Test Card Set (see above) by adding Amex and Discover cards. All cards are English-language, have a USA Issuer Country Code, a USD Currency Code and contain both a chip and a magstripe. Individual cards noted as "Dual Interface" operate in EMV contact and EMV contactless modes.
This card set expires 12/2023.
Note:  Card images below may not reflect current card definitions.  Please refer to product documentation for details.
Card details:
Test Card 01 – Amex, 374245*****1006, Dual Interface, Online Only, Online PIN
Test Card 02 – Amex 374245*****1003, Dual Interface, Online Only, Signature
Test Card 03 – Amex, 374245*****1006, Chip Error (Technical Fallback)
Test Card 04 – Discover, 651000******0133, Dual Interface, Online Only, Online PIN
Test Card 05 – Discover, 651000******0216, Dual Interface, Offline Capable, Offline PIN
Test Card 06 – Discover, 651000******0331, Chip Error (Technical Fallback)