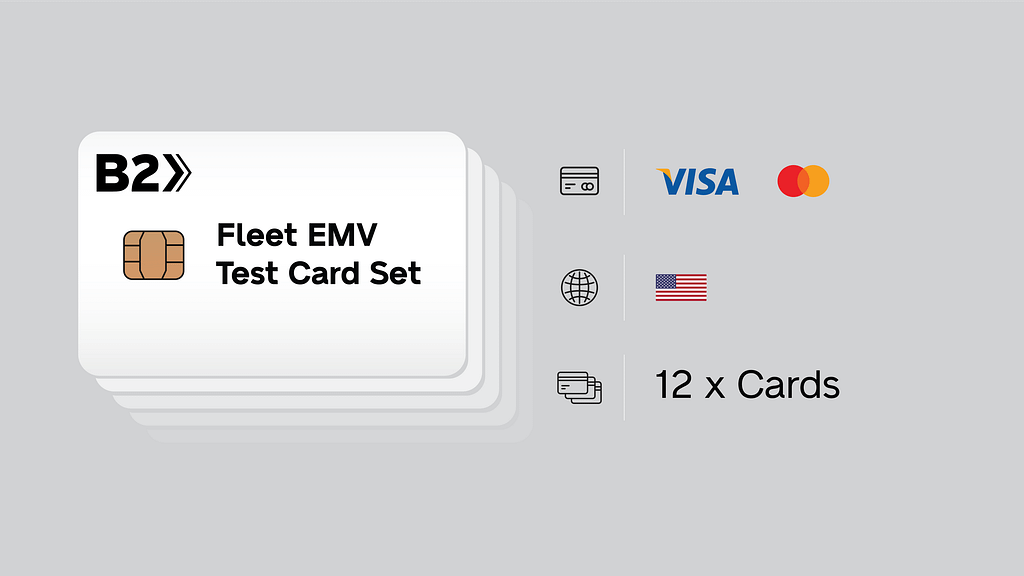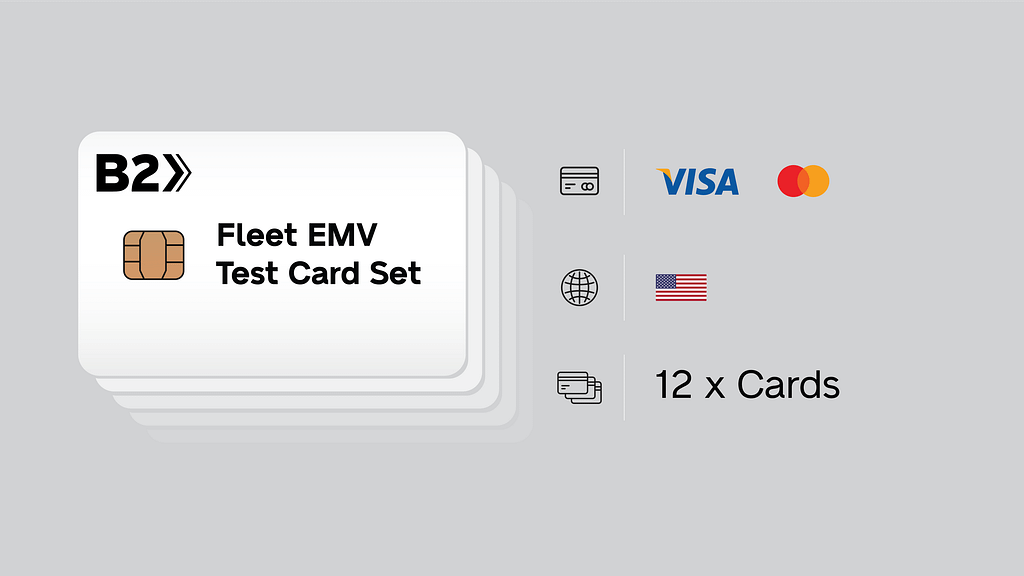 B2 Fleet EMV Test Card Set (12xCards)
Notice: A new UAT Fleet EMV test card set is currently in development to meet more up-to-date brand standards, including a migration to Visa 2.0 with dual interface – contact and contactless test cards. The new and enhanced UAT Fleet EMV test card set will replace the B2 Fleet EMV test card set.  We expect the new set will be available in October 2023.
As part of the U.S. EMV migration, the market is now preparing for the Automatic Fuel Dispenser (AFD) EMV Liability Shift, to migrate fuel pumps to accept the more secure EMV payment technology, scheduled to take place October 2020. The B2 Fleet EMV Test Card Set can help you with your migration.
This set of EMV fleet test cards are designed for those who wish to implement solutions that support EMV fleet functionality. The fleet cards can be used to perform development, testing, demonstrations and training of EMV fleet card solutions, before going live. The B2 Fleet EMV Test Card Set includes 12 test cards (4 Visa and 8 Mastercard), which have a variety of different configurations allowing you to test various fleet card profiles, such as Fuel Only cards and Fuel and Maintenance cards; as well as test fleet prompts such as Vehicle ID's, Odometer, Driver ID, and more.
This card set expires 12/2024.
Note:  Card images below may not reflect current card definitions.  Please refer to product documentation for details.
Card details:
Test Card 01 – Visa, 4485********0105, FSI 004, USA/USD
Test Card 02 – Visa, 4485********0105, FSI 013, USA/USD
Test Card 03 – Visa, 4485********0105, FSI 022, USA/USD
Test Card 04 – Visa, 4485********0105, FSI 005, USA/USD
Test Card 05 – Mastercard, 5567********8011, FSI 012, USA/USD
Test Card 06 – Mastercard, 5567********8110, FSI 024, USA/USD
Test Card 07 – Mastercard, 5567********8128, FSI 023, USA/USD
Test Card 08 – Mastercard, 5567********8136, FSI 011, USA/USD
Test Card 09 – Mastercard, 5567********8144, FSI 014, USA/USD
Test Card 10 – Mastercard, 5567********8151, FSI 015, USA/USD
Test Card 11 – Mastercard, 5567********8409, FSI 022, USA/USD
Test Card 12 – Mastercard, 5567********8417, FSI 011, USA/USD