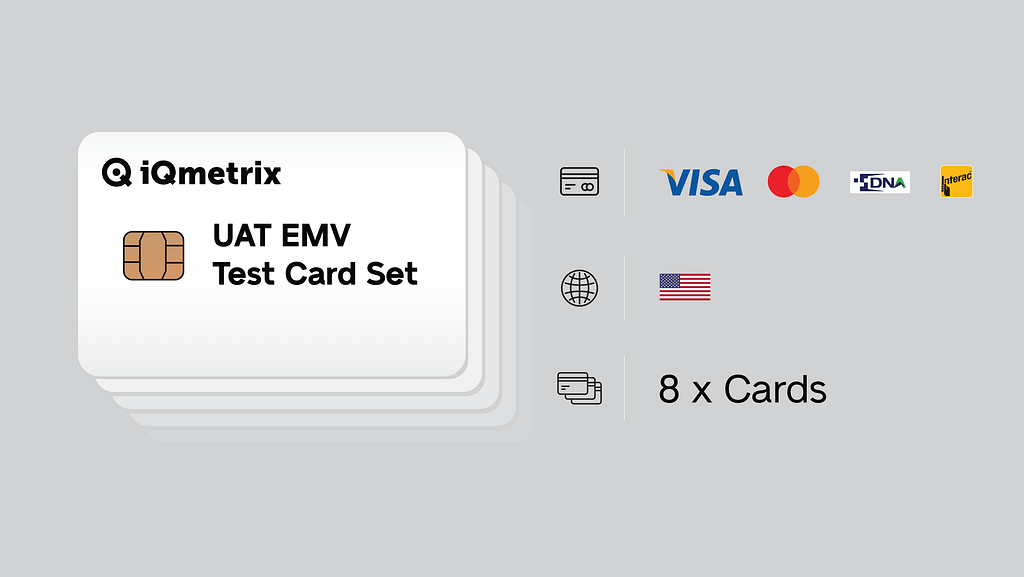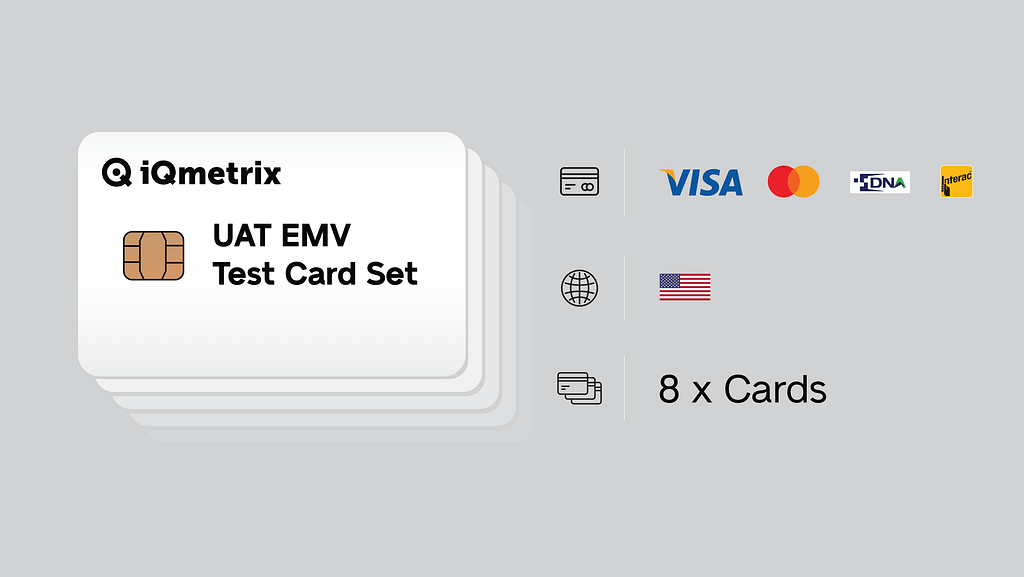 iQmetrix UAT EMV Test Card Set (8xCards)
Developed in close co-operation with iQmetrix, this UAT EMV test card set is ideally suited for UAT and training store support personnel, generating EMV test transactions and performing demonstrations. All cards* support English-language and have US issuer country / US currency. *Test Card 07 supports English / French language and has Canadian issuer country / currency.
All cards (except Test Card 08 – DNA) are Dual Interface and contain both a chip and a magstripe.
Card Expiry Dates (by Brand):
DNA 12/2025; Interac; 12/2028; Mastercard 12/2025; Visa 12/2024
Note:  Card images below may not reflect current card definitions.  Please refer to product documentation for details.
Card details:
Test Card 01 – Visa, 476173 ****** 0011, USA, USD, Online Only
Test Card 02 – Visa, 476173 ****** 0043, USA, USD, Offline-capable
Test Card 03 – Visa Debit, 476173 ****** 0135, USA, USD, Online Only
Test Card 04 – Mastercard, 54133 ****** 4111, USA, USD, Signature
Test Card 05 – Mastercard, 22236 ****** 0329, USA, USD, Signature
Test Card 06 – Amex, 374245 ***** 1006, USA, USD, Online Only
Test Card 07 – Interac, 001203 ****** 0003, CAN, CAD
Test Card 08 – DNA, 400000 ******* 0028, USA, USD, Online Only