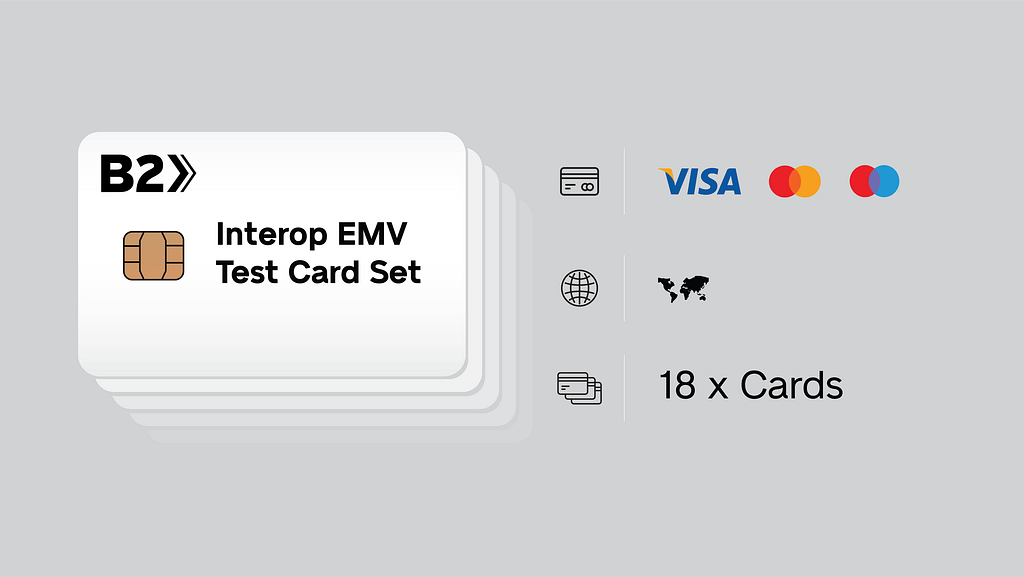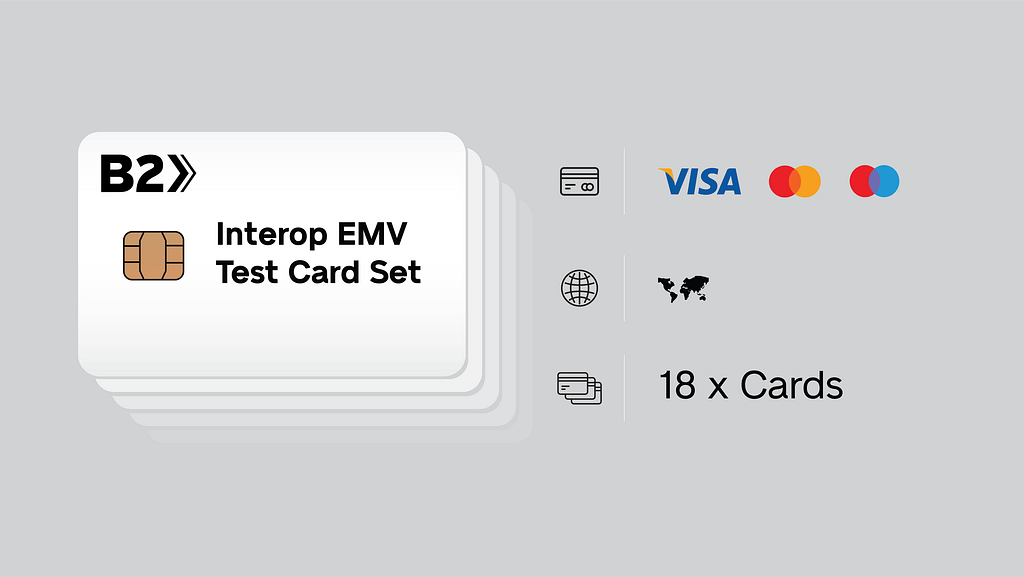 B2 Interop EMV Test Card Set (18xCards)
The B2 Interop EMV Test Card Set is designed to help developers and merchants validate that their POS solution can handle the most troublesome test scenarios.  It helps customers test specific, unique and error scenarios that can occur in payment acceptance POS solutions.
Card Expiry Dates (by Brand):
Mastercard/Maestro 12/2025; Visa 12/2024
Note:  Card images below may not reflect current card definitions.  Please refer to product documentation for details.
Card details:
Test Card 01 – Visa, 4761********0135, Clock Increase ATR '96'
Test Card 02 – Visa, 4761********0135, Clock Increase ATR '97'
Test Card 03 – Mastercard, 5413********4111, Contactless Type B Card
Test Card 04 – Visa, 4761********0119, Mismatched Expiry Dates
Test Card 05 – Visa, 4761********0119, Future Application Effective Date
Test Card 06 – Mastercard, 5413********0434, Empty Candidate List
Test Card 07 – Visa, 4761********0119, Trigger GPO Response
Test Card 08 – Visa, 4761********0119, Dual CVM
Test Card 09 – Visa, 4761********0119, Application Blocked
Test Card 10 – Visa, 4761********0119, Contactless Switch Interface Response
Test Card 11 – Mastercard, 5413********0060, Four AIDs
Test Card 12 – Mastercard, 5413********4111, 6-digit PIN
Test Card 13 – Maestro, 6799***********0051, 19-digit PAN
Test Card 14 – Visa, 4761********0027, Contactless MSD
Test Card 15 – Visa, 4761********0119, Invalid Card Language
Test Card 16 – Visa, 4761********0119, No PSE
Test Card 17 – Mastercard, 5413********4111, Long Issuer Certificate
Test Card 18 – Visa, 476173 ****** 0119, Expiry date in the past