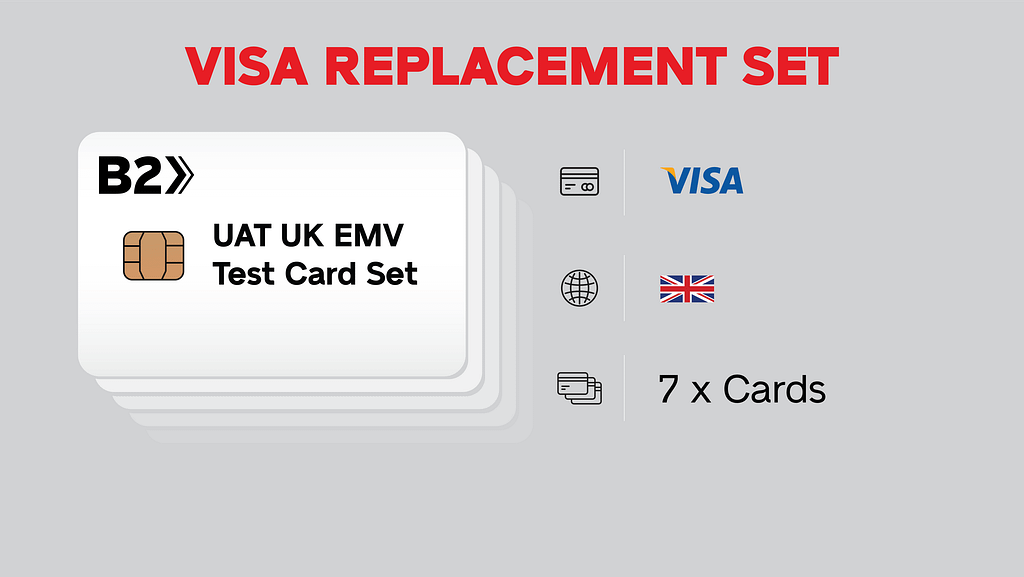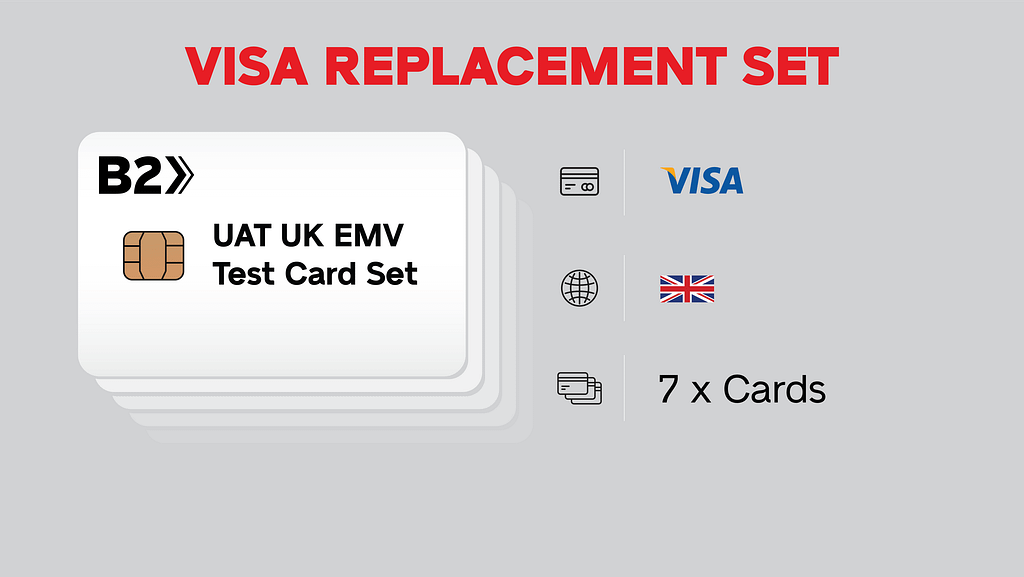 Visa Replacement Set (7xCards) – UAT UK EMV Test Card Set
This Visa replacement set of seven cards contains replacements for all VISA cards in the UAT UK EMV Test Card Set (16xCards).  All seven cards have an expiry date of 12/2024 and are intended as direct replacements for existing VISA cards that have an expiry date of 12/2022.
Technical documentation for these new cards can be accessed by using the QR code on the back of the card.
Please note:  In addition to the Expiry Date change, the PAN has also undergone a change to remain in line with Visa's guidelines.
Card Expiry Dates:
Visa 12/2024
Note:  Card images below may not reflect current card definitions.  Please refer to product documentation for details.
Test Card 01, Visa, 476173******0043, Dual Interface, High Value, GBR/GBP, English, Offline PIN
Test Card 02, Visa, 476173******0043, Dual Interface, Visa Debit V PAY, GBR/GBP, English, Offline PIN
Test Card 03, Visa, 476173******0043, Dual Interface, Visa Electron, GBR/GBP, English, Offline PIN
Test Card 04, Visa, 476173******0043, Dual Interface, Debit, GBR/GBP, English, Offline PIN
Test Card 05, Visa, 476173******0043, Dual Interface, Online Only, GBR/GBP, English, Signature
Test Card 06, Visa, 476173******0043, Dual Interface, NO CVM, GBR/GBP, English
Test Card 13, Visa, 446272******0215, Dual Interface, Debit, GBR/GBP, English, Offline PIN