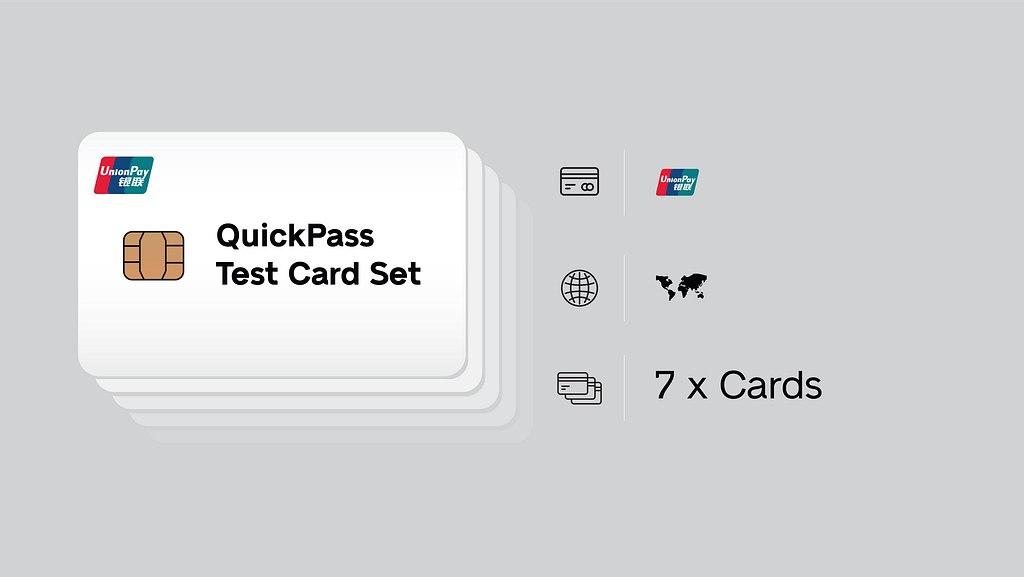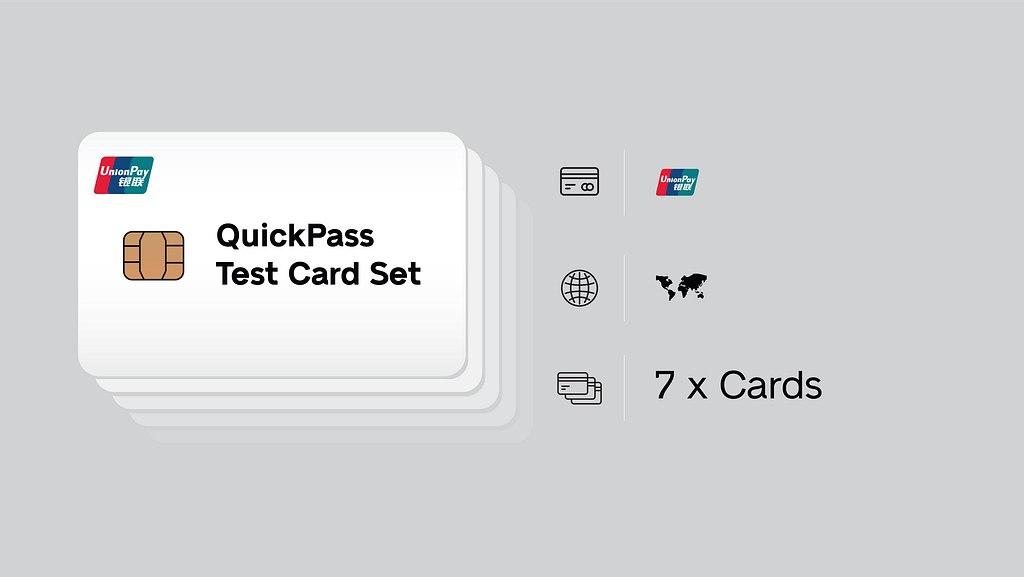 UnionPay QuickPass Test Card Set (7xCards)
For acquirers performing UnionPay International's Acquiring Certification Test for accepting UnionPay QuickPass cards by POS (Point of Sale). The UnionPay QuickPass Test Card Set consists of seven Dual Interface cards, a mixture of UICS Credit and UICS Debit cards with different PANs, including one with a length of 19 digits. All have issuer country code indicating China and language of Chinese. There are cards with currency of USD and others with CNY. All contain a magnetic stripe for fallback processing.
This card set expires 10/2030.
Note:
Until recently, this set had 8 cards.  Test Card QPC1 is no longer distributed or required by UnionPay's Test Plans and has been removed from the set.
Card images below may not reflect current card definitions.  Please refer to product documentation for details.
Card details:
Test Card QPC2 – UnionPay, 621094******0005, CHN, USD, Chinese, Credit
Test Card QPC3 – UnionPay, 621094******0004, CHN, USD, Chinese, Debit
Test Card QPC4 – UnionPay, 621094******0005, CHN, CNY, Chinese, Debit
Test Card QPC5 – UnionPay, 621094*********0007, CHN, CNY, Chinese, Debit
Test Card QPC6 – UnionPay, 621094******0008, CHN, CNY, Chinese, Credit
Test Card QPC7 – UnionPay, 621094******0006, CHN, CNY, Chinese, Credit
Test Card QPC8 – UnionPay, 621094******0004, CHN, CNY, Chinese, Credit