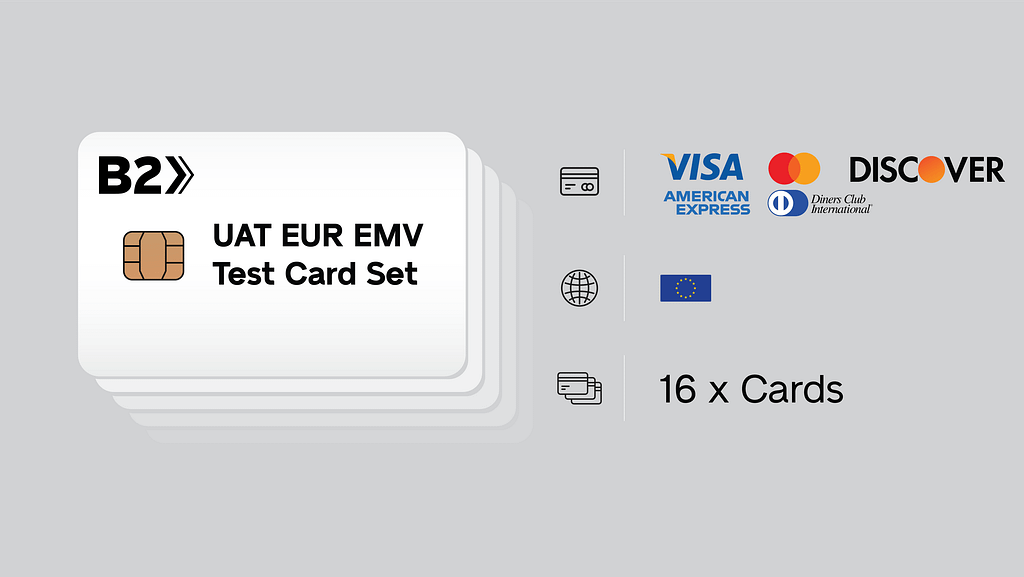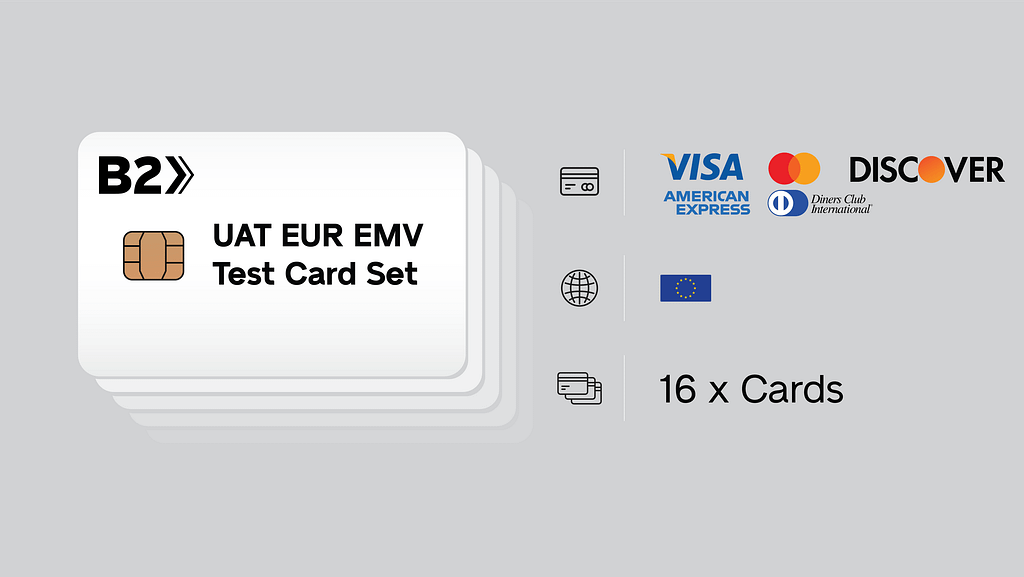 UAT EUR EMV Test Card Set (16xCards)
Designed specifically for the European market, this set of 16 EMV test cards is ideally suited for User Acceptance Testing (application development and testing), training support personnel and performing demonstrations. This card set includes cards issued from multiple countries with several different currencies. Some cards support multiple languages and all cards contain both a chip and a magstripe. Individual cards denoted as "Dual Interface" also support EMV contactless. The Mastercard dual interface cards support both contactless EMV and contactless MSD. The Visa and Amex dual interface cards support contactless EMV only, they do not support contactless MSD.
Card Expiry Dates (by Brand):
Amex 12/2024; Diners 05/2026; Discover 05/2026; Mastercard/Maestro 12/2025; Visa 12/2024
Note:  Card images below may not reflect current card definitions.  Please refer to product documentation for details.
Card details:
Test Card 01, Visa, 476173******0043, Dual Interface, High Value, FRA/EUR, French/English, Offline PIN
Test Card 02, Visa, 476173******0043, Dual Interface, Visa Debit V PAY, ESP/EUR, Spanish/English, Offline PIN
Test Card 03, Visa, 476173******0043, Dual Interface, Visa Electron, CHE/EUR, German/French/Italian/English, Offline PIN
Test Card 04, Visa, 476173******0043, Dual Interface, Debit, AUT/EUR, German/English, Offline PIN
Test Card 05, Visa, 476173******0043, Dual Interface, Online Only, USA/USD, English, Signature
Test Card 06, Visa, 476173******0043, Dual Interface, NO CVM, GBR/GBP, English
Test Card 07, Mastercard, 541333******4111, Dual Interface, DEU/EUR, German/English, Offline PIN
Test Card 08, Mastercard, 541333******0011, GBR/GBP, English, ARPC Verification Fails (Chip Decline)
Test Card 09, Mastercard, 679999*******2010, Dual Interface, Maestro International, ITA/EUR, Italian/English, Offline PIN
Test Card 10, Mastercard, 541333******9130, Dual Interface, Debit, BEL/EUR, English/French, Offline PIN
Test Card 11, Amex, 374245*****1003, Dual Interface, US, Online Only, USA/USD, English, Signature
Test Card 12, Amex, 374245*****1003, Dual Interface, Online Only, NLD/EUR Dutch/English, Offline PIN
Test Card 13, Visa, 476173******2067, Chip Error (Technical Fallback)
Test Card 14, Mastercard, 541333******0011, Empty Candidate List (MSR Fallback)
Test Card 15, Discover, 651000******0844, Dual Interface, GBR/GBP, English, Offline PIN
Test Card 16, Diners, 360705****0715, Dual Interface, GBR/GBP, English, Offline PIN