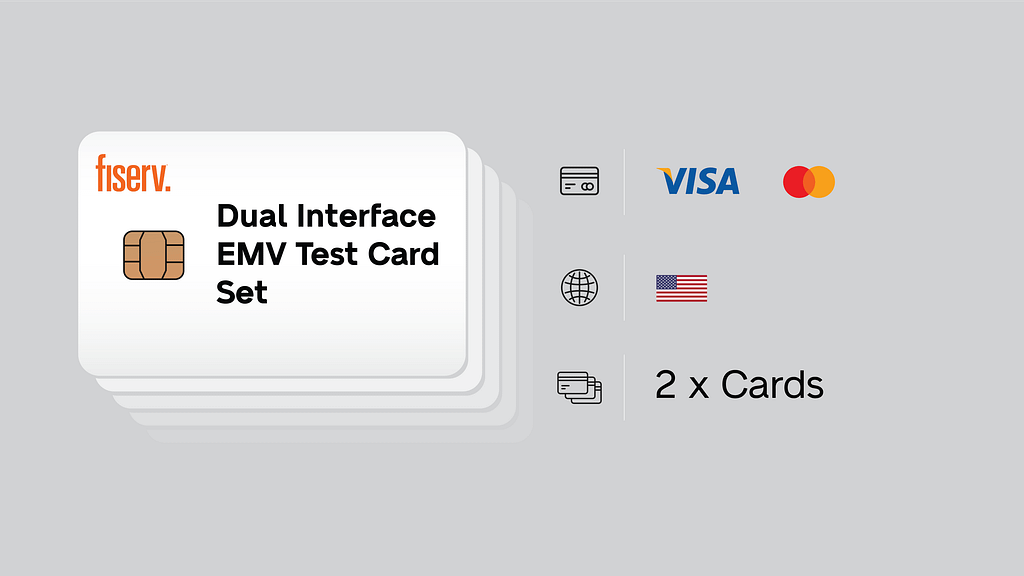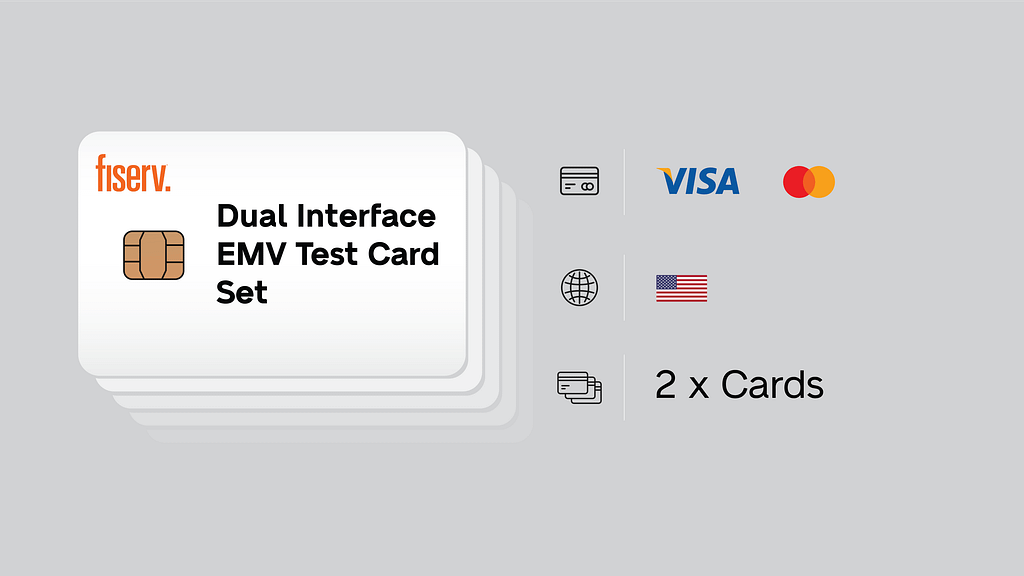 Fiserv Dual Interface EMV Test Card Set (2xCards) – Discontinued – Replaced with Fiserv UAT EMV Test Card Set (6xCards)
Important notes:
This 2-card set and the Fiserv EMV Test Card Set (4-cards) are being replaced by a new single 6-card set: – the Fiserv UAT EMV Test Card Set.
The Visa cards in each of the original two sets will expire at the end of 2022.
The two original sets will remain orderable on the B2 Store until December 31, 2022.
To purchase the replacement 6-card set or for further information, click here –
Fiserv UAT EMV Test Card Set
This set of Dual Interface (DI) – Contact & Contactless – cards allow you to demonstrate and test EMV contact, contactless and fallback transactions. All cards are English-language, have a USA Issuer Country Code, a USD Currency Code and contain both a Dual Interface chip and a magstripe. The Mastercard card supports both EMV contactless and MSD contactless. The Visa card does
not
support MSD contactless.
Card Expiry Dates (by Brand):
Mastercard 12/2025; Visa 12/2022
Note:  Card images below may not reflect current card definitions.  Please refer to product documentation for details.
Card details:
Test Card 01 – Visa, 201 Service Code, Online Only, Contactless, PAN=476173 ****** 0119
Test Card 02 – Mastercard, 201 Service Code, Online Only, Contactless, PAN= 541333 ****** 4111