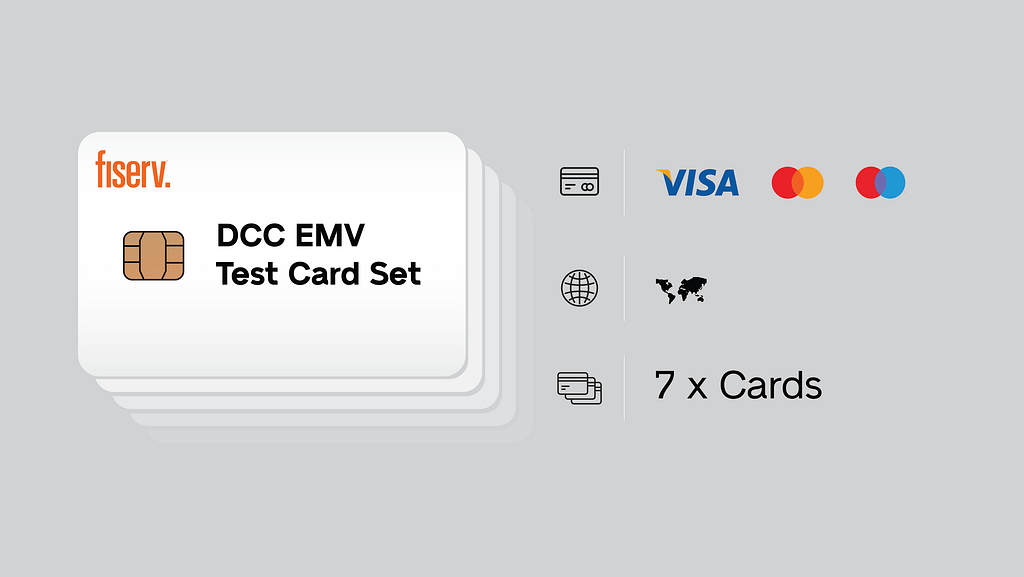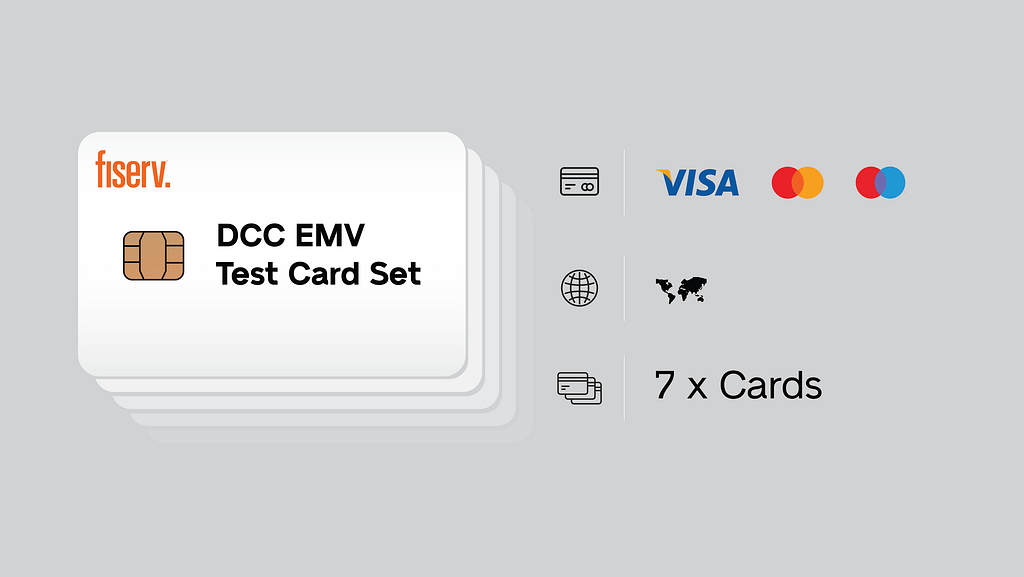 Fiserv DCC EMV Test Card Set (7xCards)
Advisory: This set has been updated as of June 13, 2023.

Working in close co-operation with Fiserv, Test Cards 01, 03, 05 and 06 has been updated by gaining new PANs. These will support the testing of 8-Digit BINs. For further details prior to June 13, please contact your Acquirer or Processor.

The global card set was specifically designed for Fiserv to perform User Acceptance Testing (application development and testing), train support personnel and perform demonstrations. This card set includes cards from a range of countries and currencies. All cards contain both a chip and a magstripe. Individual cards denoted as "Dual Interface" also support EMV contactless. Additionally, some cards will contain dual AID configuration.

Designed to streamline the DCC testing experience and eliminate the complexity of multiple test card sets, Fiserv has designated this comprehensive set as a replacement for all pre-existing DCC sets:  First Data DCC (5), First Data DCC Supplemental (7), First Data DCC Dual AID (2).
Fiserv DCC Test Card Set Expiry Dates (by Brand):
Mastercard/Maestro 12/2025; Visa 12/2025
Note:  Card images below may not reflect current card definitions.  Please refer to product documentation for details.
Card details:
Test Card 01 – Mastercard, 524830******0006, DI, Japan, JPY
Test Card 02 – Visa, 491218******0009, DI, 2-AID, S. Korea, WON
Test Card 03 – Visa, 438659******0004, Contact, 2-AID, Australia, AUD
Test Card 04 – Mastercard, 528180******0002, Contact, 2-AID, Chile, CLP
Test Card 05 – Visa, 480094******0007, DI, Colombia, COP
Test Card 06 – Mastercard, 518084******0002, DI, 2-AID, Switzerland, CHF
Test Card 07 – Maestro, 676774*******0003, DI, Great Britain, GBP